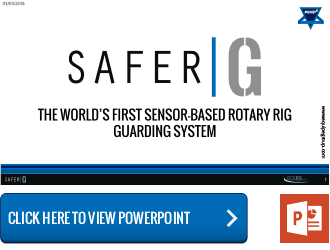 The future of rotary rig guarding - SAFER G
SAFER G is a new sensor-based rotary rig guarding system. It is a self-checking, sensor activated safety device for the protection of persons encroaching too close to the rotating part of a drilling rig (the drill string).
A considerable amount of time in the research and development phase of SAFER G was spent getting the balance right between being able to sense physical persons, whilst maintaining the ability to discount things like muds, liquids and dust particles kicked up in the act of drilling.
The system uses state of the art sensor technologies to detect persons encroaching within pre-defined safe-guarded zone/s. Once a detection is made, the system generates a signal to switch off rotation to prevent any potential entanglement.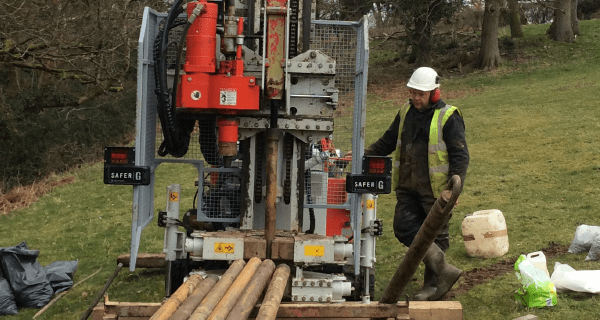 Improves rig productivity.

Improves personnel protection.

Complies with all safety and machinery legislation.

Complies with EN 16228 Parts 1 and 2.

Fully compatible with all rig types.

Creates a safer work environment.

Carries FULL CE marking as a safety device.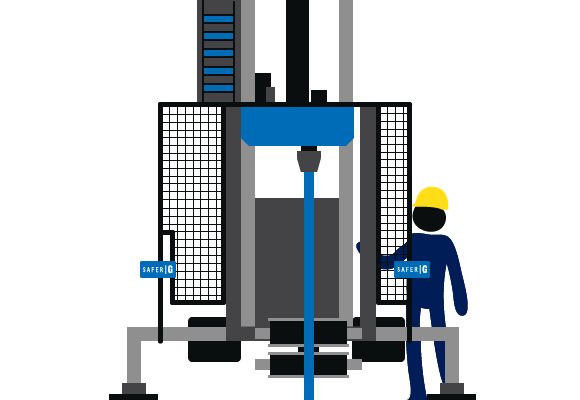 Technical Details and Information
SAFER G removes the need for gated type guards by providing a safe-guarded zone.

SAFER G provides a safety zone between 0.5m from the floor to 1.8m from the floor where operators cannot enter.

SAFER G cannot be easily bypassed or disabled.

Integration of self-checking diagnostics system which ensures the 'failure to safe' mechanism is present at all times

SAFER G can detect an object moving anywhere within a safe-guarded zone.

Ability to differentiate between small and large objects (muds, liquids and dust particles vs. people).
Approved Suppliers
Drillwell Ltd
Unit 3, Rotherham Close, Sheffield S21 2JU, United Kingdom
Tel: +44 (0)1142 487333 Fax: +44 (0)1142 487997
www.drillwell.co.uk | sales@drillwell.co.uk

TEC System
14 Rue Emile Zola, Naintre, France
Tel: +33 (0)5499 37600 | Fax: +33 (0)5499 37626
www.sbc.fr | info@tecsystem.fr