theGeotechnica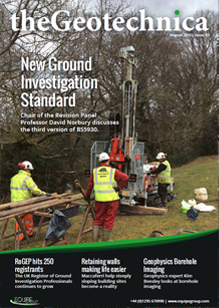 theGeotechnica is a concept e-magazine aimed at the Geotechnical, Environmental and Drilling industry. The magazine is aimed at practitioners: whether you are a Geologist, Scientist or Geotechnical Engineer; Designer or Consultant; Driller or Site Operative - theGeotechnica has something to interest you. We bring you news from all sectors of our community.
How much is it?
theGeotechnica is FREE to all subscribers to allow invaluable content and important messages to be distributed more readily. Just sign up here and you will receive your copy every month absolutely free.
What's the content?
The content is your news: If you have information or views that you wish to share, then we want to hear from you. Every month there is useful information and articles, aimed at aiding and dealing with the practical issues which affect our industry. There are also editorial columns and articles from invited contributors.
What about advertising?
theGeotechnica carries advertisements at rates you can afford. You can advertise your services on a full, half or a quarter page or as part of the Services Directory. In addition theGeotechnica carries advertisements for items that are for sale or hire and if you are looking for staff there is a section for recruitment. For more information about advertising in theGeotechnica, or for our full advertising rates, please email: magazine@geotechnica.co.uk.
This Month
We are very pleased to provide Issue 58 of theGeotechnica which this month includes: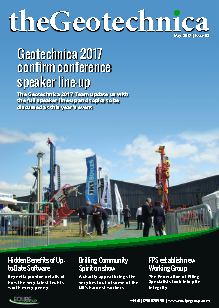 - Exciting speaker line-up confirmed for industry's largest dedicated conference and exhibition - In the first entry into this month's issue of theGeotechnica, the Geotechnica 2017 team unveil the keynote speakers for this year's conference, titled - The Ground Investigation Industry: 2020 Vision.
- Uncovering the Hidden Benefits of Buying New Software - Writing for theGeotechnica this month are geotechnical data management specialists, Keynetix. This month Keynetix provide advice on the many hidden benefits of staying up-to-date with all of the very latest geotechnical software.
- Drilling community pulls together - The third entry into this month's magazine is a charity appeal in aid of the Freeman Hospital Renal Unit - a cause close to the heart of a number of the UK's cable percussion drillers following one loving driller's sacrifice for the benefit of his wife.
- FPS Establishes Working Group to Investigate New Methods of Pile Integrity Testing - The Federation of Piling Specialists (FPS) has established a Working Group to evaluate the many new methods of indirect pile testing, to address concerns that exist over their over interpretation and ensure results are both robust and calibrated against each other and against existing direct testing methods. The final article in this month's issue of theGeotechnica takes a closer look at the Working Group's intentions.
To view this month's issue of theGeotechnica as a Flipbook, click here...
To view this month's issue of theGeotechnica as a PDF, click here...
Sign Up
Signing up to recieve theGeotechnica every month couldn't be easier. Simply click the link below and fill out the corresponding form. This will automatically add you to our mailing list and ensure that you recieve a copy of theGeotechnica into your email inbox immediately after its release to the public.
Click here to sign up to recieve your FREE monthy edition of theGeotechnica...